Girls in Guiding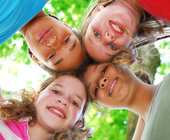 Girlguiding UK is the UK's largest voluntary organisation for girls and young women, with approx 500,000 members between the ages of 5 and 25 years.
Girlguiding is available to every girl and young woman who wants to join.
Girlguiding is delivered in 4 distinct sections:-
Rainbows - 5 and 6 years
Brownies - 7 to 10 years
Guides - 10 to 14 years
Senior Section - 14 to 25 years
Statement of Purpose
Girlguiding UK enables girls and young women to develop their potential and to make a difference to the world.
Guiding's distinctive method
Guiding in the United Kingdom is based on a number of principles:-
• commitment to the ideals embodied in the Promise and Law
• membership that is open to all girls and women irrespective of faith, race, culture, nationality or any other circumstances, provided they are able to understand and are willing to make or work towards making the Promise.
• membership which is voluntary.
• a particular method of learning by doing – guiding uses a method with five distinct elements (known as the five essentials of Guiding) that interlink:-
1. Brownies work together in small groups.
2. Brownies are encouraged to govern themselves & make their own decisions.
3. Brownies have a balanced and varied programme.
4. Brownies care for the individual.
5. Guides and Brownies share a commitment to a common standard.
• independence from any political organisation.
• membership which is self-governing, with freedom to formulate its policy and put it into practice.
Our Key Messages
• Girlguiding UK gives girls and young women a voice.
• Girlguiding UK offers a safe, girl-only space.
• Girlguiding UK promotes diversity and equality.
• Girlguiding UK is modern and relevant to today's girl.
Further information
For further information visit other web pages:-
girlguiding.co.uk
Similar topics
---
Permissions in this forum:
You
cannot
reply to topics in this forum